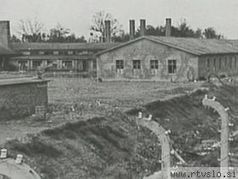 Reuters/STA (Celje, Slovenia) reported on thematic events on the eve of Holocaust remembrance in Slovenia.
The National Museum of Contemporary History has marked 27th of January – the day when the world remembers the victims of the Holocaust – by the presentation of the first comprehensive work about the Jewish community in Slovenia in the period before the World War II. The author Andrej Pančur entitled his monograph 'The Jewish community in Slovenia'. This work is also the starting point for any further exploration of the Holocaust in this part of Europe. The author deals with the Jewish community in the territory of present Slovenia since its inception resettlement in the Habsburg monarchy. Detailed analysis of demographic, economic and social structure of Jewish communities is presented.
International Holocaust Remembrance Day Poster Competition takes place in Atrium ZRC SAZU in the period 28. 1. / 10. 2. 2012.
Življenje Judov na Slovenskem na predvečer holokavsta :: Prvi interaktivni multimedijski portal, MMC RTV Slovenija
Via www.rtvslo.si