See on Scoop.it – Slovenian Genealogy Research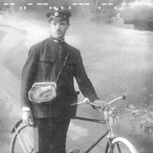 The main museum collections of the TMS are located in the former Carthusian monastery in Bistra near Vrhnika. In addition to visiting the collections and participating in great many activities organised for children and adults alike, the visitors may enjoy a pleasant rest in a serene natural environment far away from the rapid pulse of urban life.
In the museums visitors can attend several workshops and demonstrations, through which they can truly experience the technical spirit of the past. All planned events you will find in Event calendar.
Knapco's insight:
Impressive are elements of primary activities: hunting, fishing and timber manufacturing. Slovenia is rich in forests, rivers and water in general. In 20th Century the timber industry has been developed to saws and wood processing companies such as Inles, Lesna Slovenj Gradec, Liko Vrhnika with their chairs and many more. They have become part of the history, despite the fact that also today the wood processing industry is perspective… What a delightful models of terminals are presented in Rečica near Bled! It's time to learn from our history…
See on www.tms.si